IN PUBLIC: 21 Stockwell Street Glasgow G1 4RT : Map >


For 3 months, I'll work, "In Public" on a series of 3 large oil paintings on the subject of contemporary urban Glasgow City-Scapes. These paintings, when finished, along with related work done by others, in the space during this time will form an Art exhibition "THE FLATS" - opening April 20th.
Throughout this time, i will also present and provide, numerous, related, Art events, including Drawing and Painting workshops, and classes, tutorials, exhibition opportunities to local people, students, groups, visitors, invited artists etc. This and more will all happen in the space/ studio/ gallery, "In Public", and will be regularly advertised, publicised, updated and documented. It will also be adaptable as it evolves.
In Public will be open to visitors and passers-by, every Saturdays and Sundays (10 - 5pm). At these times, and during the exhibitions, people are welcome to visit the space to see, and discuss, the work in progress, or on show. There will also be refreshments at cafe discoteka. See work in final show >

Events: April 2012
Saturday April 7th.Exhibition
Michael Windle "How to paint #3: Lyrical Abstraction" info >
Uli Schoue "URBAN"
Friday April 13th (6-9pm) Exhibition opening
Aimi Louise Ferrier "New Paintings" info >
Saturday April 14th Live Rockabilly The Raeburn Heights 2-5pm

Friday April 20th (6-9pm) Exhibition opening "THE FLATS"
Saturday April 28th "IN PUBLIC" Closing day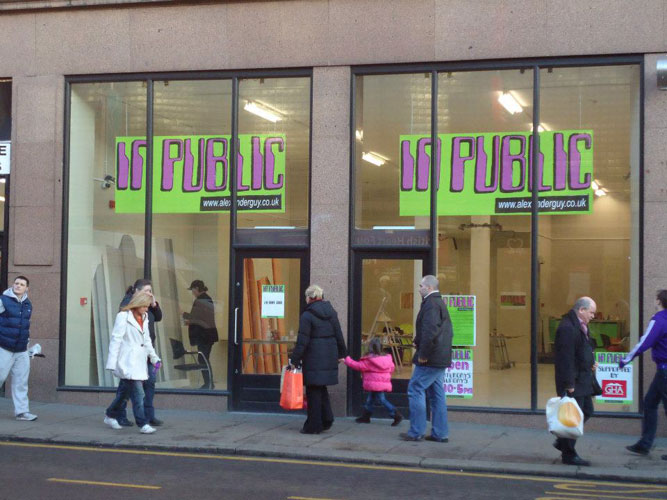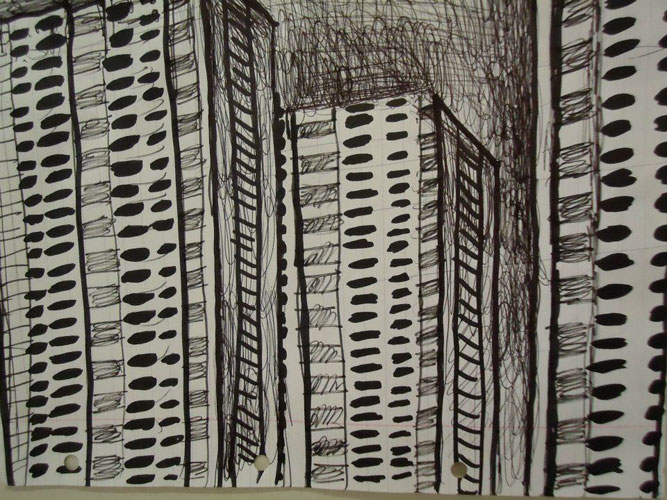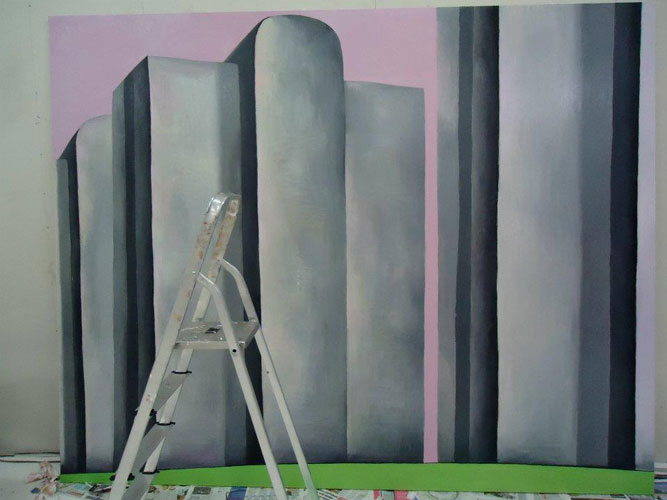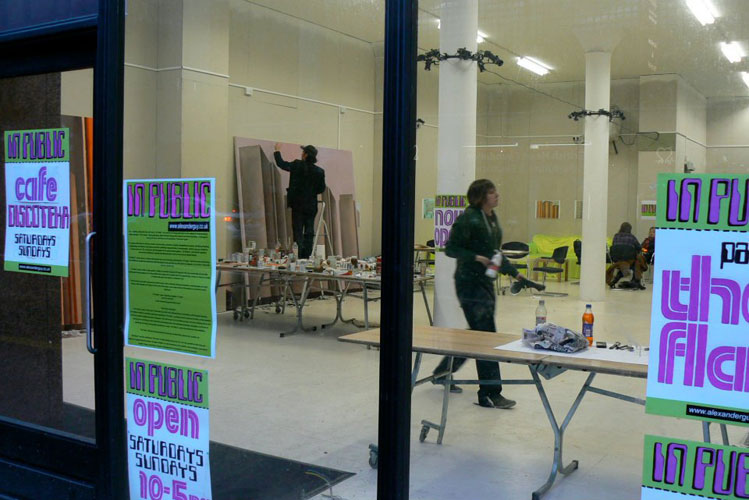 In Public aims to offer a high quality, visible, accessible, visual art program in the city centre that can provide coaching and encouragement to many people who might not normally have the opportunity, choice, or chance to study or further develop their talent or interest in art.
The aim is also to provide a unique city centre venue, with a relaxed, inviting atmosphere, where people can meet, discuss, offer thoughts and ideas on work in the space, even make some art themselves, listen to live music, or just have a look... whatever.

"In Public" 21 Stockwell Street Glasgow
open Saturday, Sunday 10 - 5pm
tel: 07766309522
e-mail: info@alexanderguy.co.uk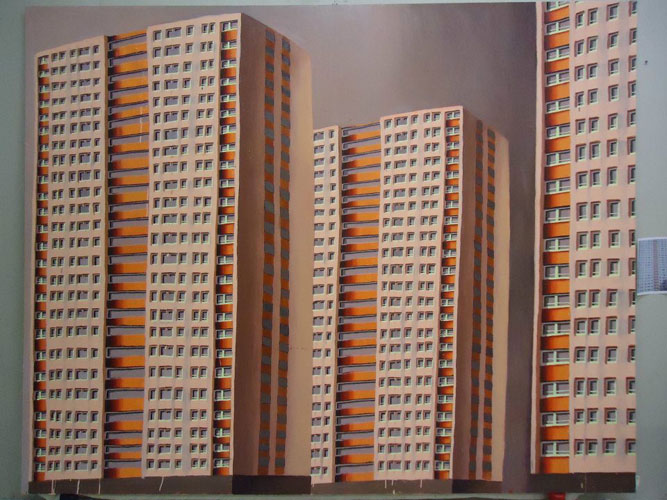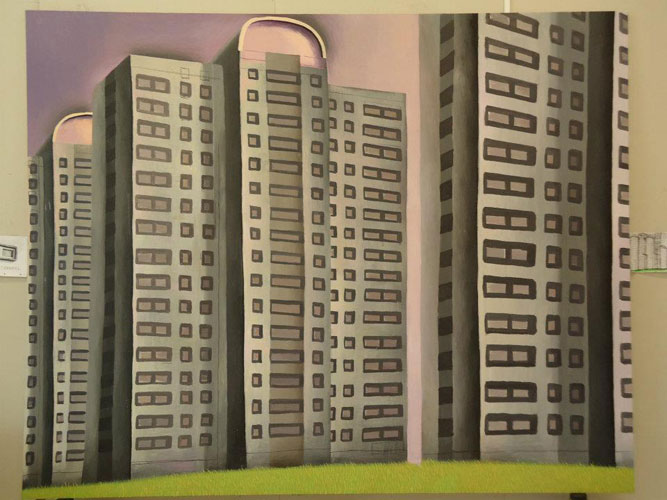 "The Flats" Exhibition
3 mornings a week, in the space, I will be working collaboratively, exclusively, with Glasgow Housing Association residents, towards creating the exhibition "The Flats", opening April 20th, a positve visual response, by them, to actuality of living in specific neighbourhoods in Glasgow.
This will involve GHA resident groups, not only, assisting me on the paintings I am working on, but meanwhile, developing their own individual artworks, alongside, in the form of paintings, drawings, photography and film etc, made "In Public" and to be included in the exhibition.

"The Flats" will also include selected artworks by invited artists, art students, passers-by etc.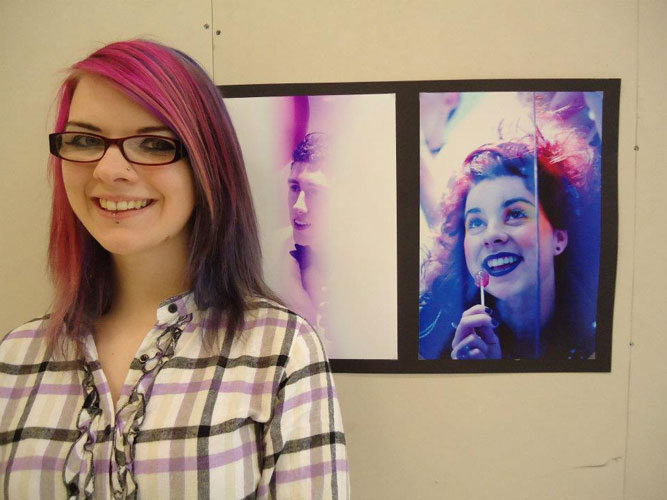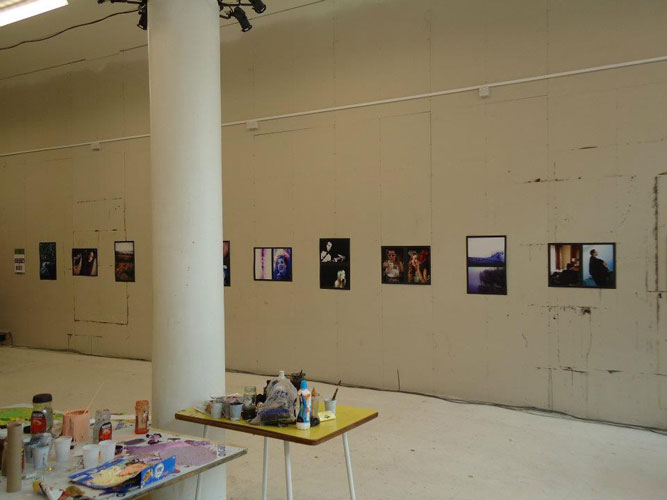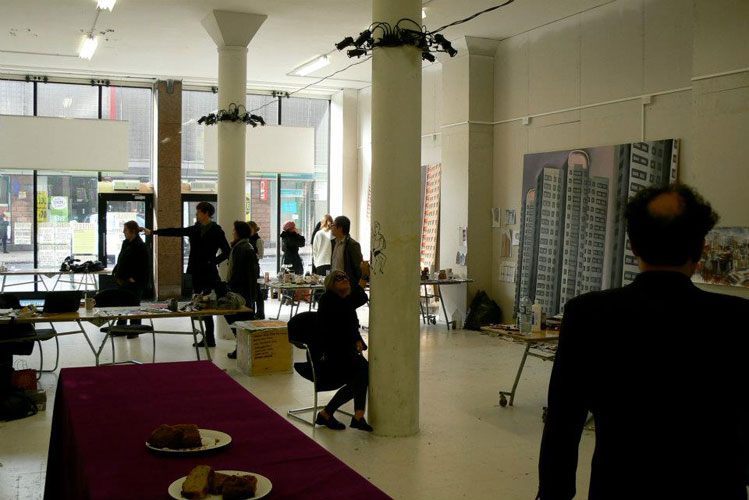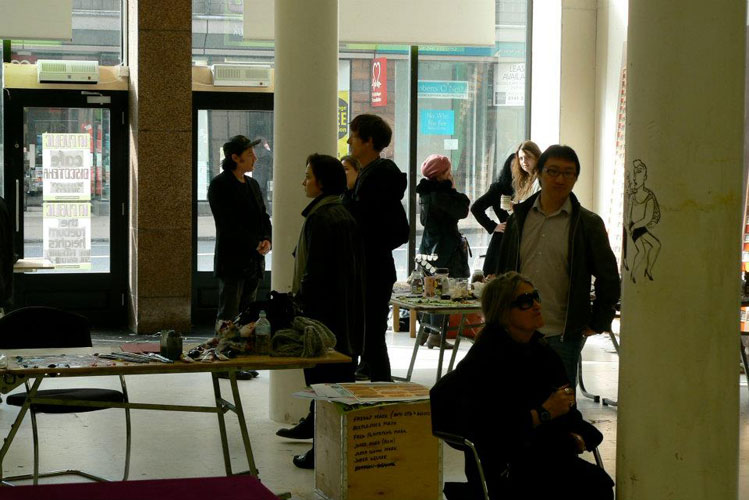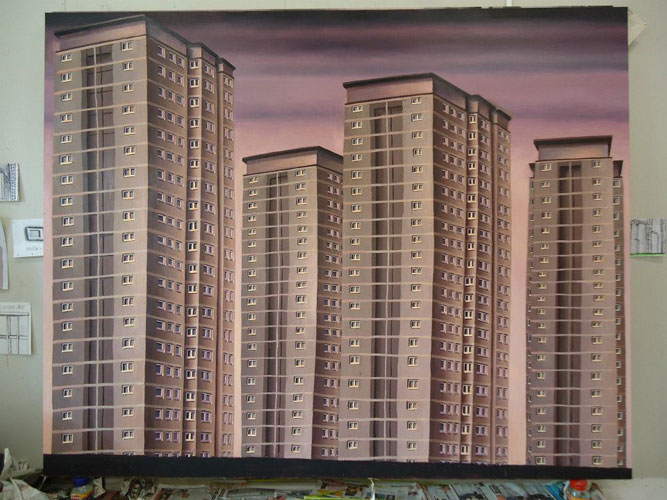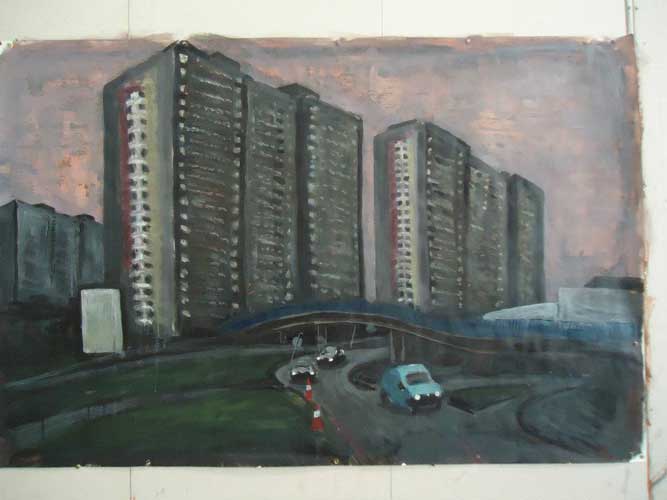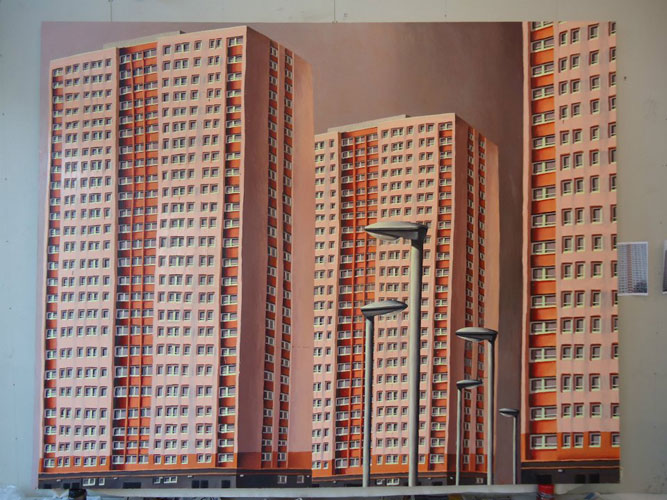 Uli Schoue "URBAN"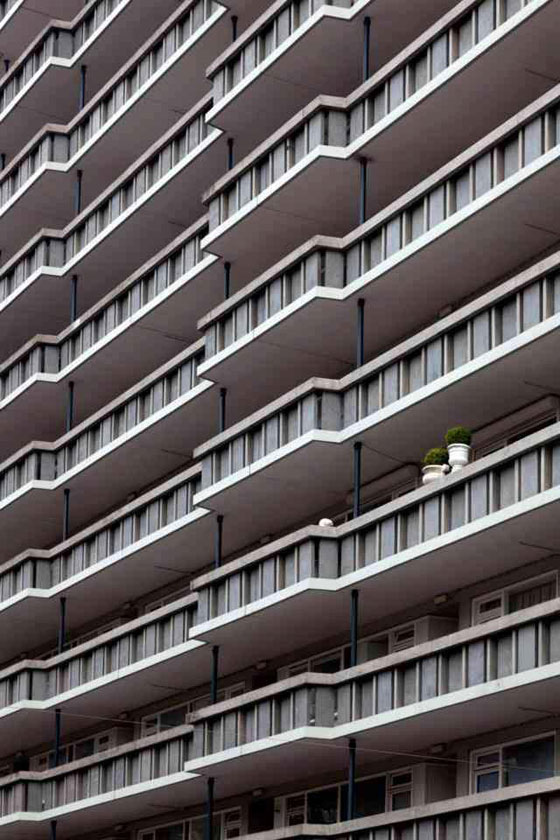 Michael Windle "How to paint #3: Lyrical Abstraction"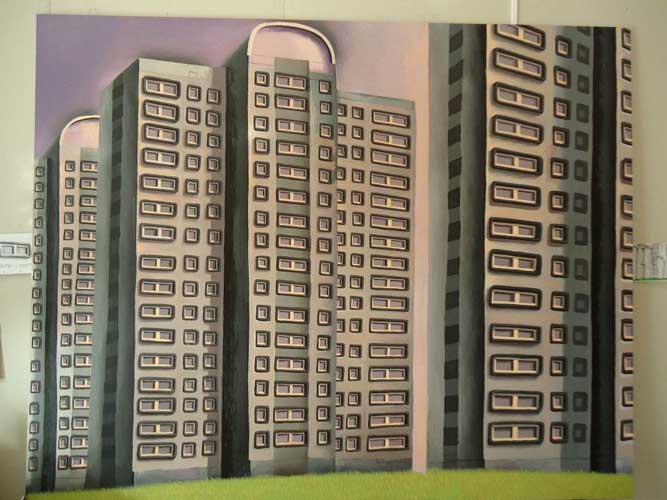 Aimi Louise Ferrier "New Paintings" info >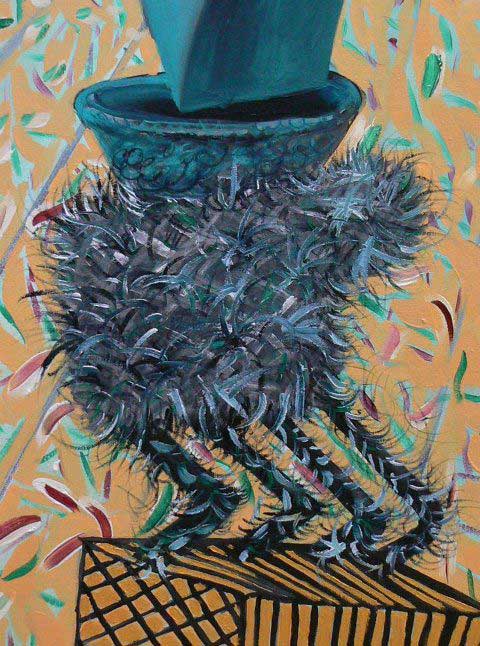 Alexander Guy - The High Flats I


Alexander Guy - The High Flats II


Alexander Guy - The High Flats III

| | |
| --- | --- |
| Al Strachan | Chris Watt |


Mairi Hutchinson


Emma Calder





Suzanne Wason


John Jack


Aimi Louise Ferrier